Health Professionals and Community Partners
Working with WIC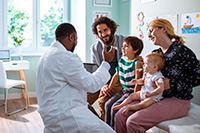 WIC is proud to offer healthy foods and experts in nutrition, health, and breastfeeding to assist families at critical periods of growth and development. CDPH/WIC Division counts on health care providers to refer WIC-eligible families to the WIC Program.
Whether you work in a hospital, the community or a clinic, WIC is here to help your patient population!
WIC Outreach Materials
WIC Breastfeeding Support Services
Therapeutic Formula
A WIC participant may have a medical condition and need therapeutic formula that is not a WIC contract formula. Therapeutic formulas should be covered by the WIC participant's health plan when the clinician provides adequate medical justification. Should a WIC participant be denied therapeutic formula coverage by his or her health plan (Medi-Cal or other health insurance), the WIC Program may provide the therapeutic formula.
Clinical Guidelines and References
Breastfeeding Research and Data
Resources for Hospitals
All mothers should receive breastfeeding guidance and information.
California law (Hospital Infant Feeding Act) requires all hospitals with a perinatal unit to have an infant-feeding policy that promotes breastfeeding guidance according to standards set by the California Department of Public Health.
"All hospitals providing maternity care shall make available a breastfeeding consultant or alternatively, provide information to the on where to receive breast feeding information". (AB 977)
Referral Forms
Fax completed forms to 510-595-6440