Apply for WIC Today
Thank you for your interest in applying for the WIC Program.
Step 1 in the application process is to schedule an enrollment appointment.
For an appointment, please submit your information using this online form and a staff member will call to assist you OR you may directly contact one of our offices for assistance.
---
Gracias por su interés en solicitar el Programa WIC.
El paso 1 en el proceso de solicitud es programar una cita de inscripción.
Para una cita, envíe su información utilizando este formulario en línea y un miembro del personal lo llamará para ayudarlo O puede comunicarse directamente con una de nuestras oficinas para obtener ayuda.
---
感謝您有興趣申請 WIC 計劃
申請流程的第 1 步是安排申請預約。
如需預約,請使用此在線表格提交您的信息,工作人員將致電為您提供幫助,或者您可以直接聯繫我們的辦公室尋求幫助。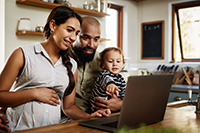 If you are a WIC participant changing an appointment, please call your local WIC office to reschedule your appointment. For specific WIC site hours of service, see Locations and Hours.
Find out if you meet income guidelines »