Women's Health Promotion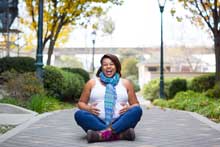 The Women's Health Promotion (WHP) program helps pregnant and parenting African American women have healthy babies through care coordination, linkages to community resources, and support.
The program's two goals are to:
Provide support and health education during pregnancy
Provide assistance with problem-solving, and advocacy for care during a pregnancy
Women's Health Promotion Navigators will provide support, community referrals, health education and information. They will also initiate the development of a client-centered Reproductive & Life Plan (RLP).
The Women's Health Promotion Navigators will be housed in community hubs in the target area's three priority neighborhoods. This approach will ensure our services are accessible and convenient. Navigators will support families in person at a hub, in the community, at your home and by phone.
Call our main line at (510) 618-2080 and you will be directed to a Community Hub near you.
Eligibility
Clients must meet the following:
Be an African American woman who thinks she is pregnant, wants to be pregnant or is pregnant
She may be ambivalent about her pregnancy, excited about her pregnancy or may want to explore her pregnancy options
Live in the following zip codes: 94601, 94602, 94603, 94605, 94606, 94607 and 94621 94541, 94578, 94580 cover Ashland/Cherryland