Tobacco Control Program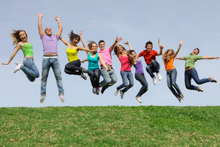 The Tobacco Control Program (TCP) provides tobacco education, prevention services, and technical assistance to government agencies, community-based organizations, law enforcement, hospitals, clinics, businesses and residents while working toward the following goals:
Countering pro-tobacco influences in the community
Reducing exposure to secondhand smoke
Increasing the number of smoke-free public spaces, worksites, schools and communities
Reducing the availability of tobacco products
Promoting the availability of cessation services
For more detailed informaiton Smoke-Free Laws and Enforcement in Alameda County, please visit www.tobaccofreealamedacounty.org
For complaints, please contact us at:
Phone: (510) 208-5920
Email: TCP@acgov.org

In November 2021, Alameda County Tobacco Control Program funded a poll of San Leandro residents to assess opinions regarding ending the sale of menthol cigarettes.
Tobacco Control Program Focus Areas
Adopting reasonable distance policy and updating the smoking control ordinance in selected cities in Alameda County that currently do not have reasonable distance in their smoking control ordinances.
Defining reasonable distance in the smoking control ordinances of the unincorporated areas (Ashland, Castro Valley, Cherryland, San Lorenzo) and other selected cities in Alameda County.
Adopting a tobacco retailer licensing policy that will increase efforts to end illegal sales to tobacco to minors and that will fund local enforcement of tobacco laws.
Adopting and implementing smoke-free policies in faith-based organizations.
Pass a resolution in support of the FDA regulating the use of menthol in cigarettes.
Coordinating, monitoring, and evaluating enforcement grants with law enforcement.
Educating and providing technical assistance to policymakers, city/county staff, and law enforcement regarding tobacco related laws
Target Audience:
All ethnic, culture, and age groups.
Eligibility:
All Residents and businesses in Alameda County (except the City of Berkeley) are eligible to use our services. Berkeley residents and businesses should contact the City of Berkeley Tobacco Prevention Program at 510-981-5330.