Healthy Retail Program
Click the images to download flyers
NEW REPORT: Alameda County Nutrition Services Healthy Retail Report, April, 2019
The Alameda County Nutrition Services (ACNS) retail program partners with local grocery store owners to make environmental changes to promote health and well-being. Through grocery store tours and cooking demonstrations patrons get to experience easy cooking tips, delicious easy to make recipes, and educational, fun food facts. The ACNS retail team presents on a monthly basis preparing seasonal recipes and offering food, taste tests.
Grocery Store Tours: A registered dietitian is a guide through the store (dairy, meat, bread, and cereal sections) and is on hand to answer nutrition questions. Participants will also learn label reading, discuss why fruits & vegetables are important, receive nutrition/health information, and learn budgeting strategies! Tours are conducted in both English and Spanish. Call us to schedule a tour at your neighborhood store (see list of stores).
Cooking Demonstrations: This is free, monthly opportunity to the community. An easy to make recipe is highlighted using a seasonal fruit or vegetable, along with a free taste test, free recipe, and nutrition and cooking tips.
We are currently working with 19 stores in Oakland, San Leandro, and Ashland in the unincorporated area of Alameda County. Click here for the brochure.
Click here for healthy recipes
---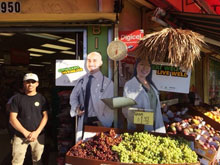 Contact Nori Grossman to learn about store partnerships and for more information about the benefits of Sugary Drink Taxes. 510-268-4225. nori.grossmann@acgov.org.
Rancho Market in Fruitvale keeping the community healthy by hosting a Fruit and Veggie Fest in July 2017 with 200+ people in attendance!