Early Childhood Nutrition and Policy Program
The Alameda County Nutrition Services, Early Childhood Nutrition and Policy Program started in 2013 and is at 17 sites throughout Alameda County. The program is led by our partner, the University of California Cooperative Extension (UCCE) in partnership with Alameda County Nutrition Services.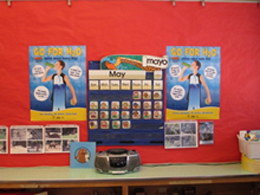 The goal of the program is to engage sites in the process of creating, passing and implementing Nutrition and Physical Activity policies at preschools throughout Alameda County. Policies include increasing fruit and vegetable consumption, more physical activity throughout the school day and reduced or zero screen time.
The long range goal is to help prevent chronic disease and improve long-term health at the early childhood sites and surrounding communities. We serve low income communities.
Measures of Our Success:
To measure the positive impact, we envision that 100% of the children at participating early childcare sites will benefit from implementation of a wellness policy. It is our hope that by September 30, 2018, 240 children ages 0-5 will be reached through sites with healthy eating/activity improvement goals.
Last year, 100% of the sites created and adopted written Nutrition and Physical Activity policies and are working to support two new, additional health goals in the 2017-18 school year.
Sites are trained and supported by their lead staff and have access to resources and technical assistance from Nutrition Services. The following are sample strategies to meet and exceed the goals on behalf of young children:
Use the Creating Healthy Opportunities in Child Care Environments (CHOICES) manual to assess nutrition and physical activity environment
Staff create at least two health improvement goals for their site and assist with creation, promotion and implementation of written policies
Hold in person coaching visits in each classroom to assist with strategies to implement goals
Meet with family advocates and/or parents to promote and assist with implementing the policy
Partner Sites
Alameda:

College of Alameda Head Start
Sue Matheson Center Head Start
Angela Aguilar Head Start

Emeryville:

St Mary's Center Preschool
Ralph Hawley Head Start YMCA

Fremont:

Hyman State Preschool
Cabrillo State Preschool
Grimmer State Preschool
Durham State Preschool
Blacow State Preschool

Oakland:

San Leandro:

Hayward:

Harder State Preschool
Cherryland State Preschool
Helen Turner State Preschool
John Muir State Preschool
Alameda County Nutrition Services Contact: To learn more, contact Carridad Taber, (510) 268-4215, carridad.taber@acgov.org.