County Nutrition Action Partnership
CNAP usually convenes the 4th Tuesday of the month from 1-3:00pm at the
Alameda County Community Food Bank.
For more information, contact Annette Laverty at Annette.Laverty@acgov.org.
The Alameda County Public Health Nutrition Services program coordinates the Alameda County Nutrition Action Partnership (CNAP).
CNAP's goal is to promote optimal health for all CalFresh Healthy Living (CFHL) eligible Alameda County residents so that local nutritious food and physical activity opportunities are readily available and easy to access. Alameda County's Nutrition Action Partnership was first organized in 2006 with six United States Department of Agriculture (UDSA) funded programs: School Meals Program, CalFresh Food (formerly food stamps), Child & Adult Food Assistant Program, WIC, California Public Health Department, and Emergency Food Program.
CNAP's purpose is to reach 209,000 county residents, representing 13 percent of the population who are eligible for CalFresh. This includes reaching youth in 206 schools (52 percent of the County's schools) and families from across 45 of the County's 360 census blocks.
Alameda County Nutrition Action Partnership (CNAP) April 2018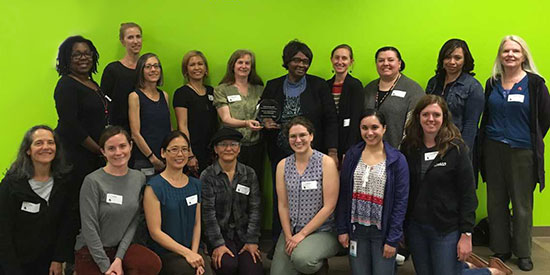 Member-directed Strategies for the period FFY 2017-2019
Expansion and diversification of both SNAP-Ed and non-SNAP-Ed funded member agencies and partners working to achieve local goals aligned with selected statewide goals.
Policy, Systems, and Environmental (PSE) Change. With the goal for at least 50 SNAP-Ed eligible sites to develop and implement at least one PSE change that will improve and/or increase access to and/or support for healthy food and/or safe environments to increase physical activity.
Direct/Indirect Education with the purpose to align member agencies and partners around a specific place-based nutrition and/or physical activity campaign, implementing up to 20 multi-level intervention strategies in two priority neighborhoods (Ashland and East Oakland) that meet state eligibility, grant guidelines.
Community Intervention reaching 11,000 SNAP-Ed eligible residents through evidence based direct nutrition education, and 22,000 SNAP-Ed eligible residents through indirect nutrition education and physical activity promotion designed to increase awareness, knowledge, intent to change, self-efficacy skills, and consumption of healthy foods and beverages.
Accomplishments
Do What Moves You Messaging Campaign: October – December 2018
Nutrition education and physical activity promotion activities, impacting two specific high need neighborhoods, were prioritized in the IWP. The Do What Moves You community designed campaign piloted in the Ashland, unincorporated area of Alameda County. A campaign will be also take place in East Oakland.
Award Winning Best Practice: March 2018
CNAP was recognized as one of the top 11 wellness and nutrition initiatives in 2018 by the Harkin Institute for Public Policy and Citizen Engagement at Drake University. CNAP was featured in the Harkin Institute's Harkin On Wellness (HOW) inaugural annual report highlighting wellness and nutrition initiatives throughout the country. The report will be shared with community leaders and decision-makers in hopes they will use the existing initiatives as a tool to build a sustainable wellness program within their own community.
Your Guide to Healthy Food Resources in Alameda County: July 2017
Developed as a consumer-friendly guide to provide eligibility and benefit information on all USDA food assistance programs: Food Helpline and Linea de Comida, CalFresh, WIC, Head Start, School Meals, Summer Meals Program, Food for Seniors.
Award Winning Three-Year Integrated Work Plan: November 2016
The California Department of Public Health awarded Alameda County the "Best FFY 17-19 Integrated Work Plan." CNAP member agencies developed an integrated work plan (IWP) by conducting a needs assessment of the community and demonstrating strong partnership work. The workplan is comprised of the above-mentioned member-directed strategies.
Get Fresh Stay Healthy Campaign: 2012-2013
Collaborated with Alameda County Social Services Agency to conduct outreach and educational campaigns for youth, adults, and older adults in four geographic locations in Alameda County.
CNAP Member Agencies
Alameda Head Start
AC SSA Area Agency on Aging
Partners in the recent Do What Moves You campaign (October-December 2018) in Ashland include:
The many amazing residents & champions of Ashland:
Resources
Your Guide to Healthy Food Resources in Alameda County
Nutrition and Physical Activity Database to help address obesity
Do What Moves You Campaign Materials
CalFresh and Emergency Food