Pertussis
Updated: June 15, 2018
High Levels of Pertussis in Alameda County
Like the rest of California, Alameda County has also had a large increase in pertussis cases in 2010, 2014, and early 2018. We have seen the most cases this year in high school-aged children.
Case counts from January to May are:
| | |
| --- | --- |
| 2010 Jan-May | 45 |
| 2014 Jan-May | 101 |
| 2017 Jan-May | 40 |
| 2018 Jan-May | 180 |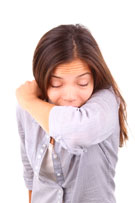 What is Pertussis?
Pertussis (whooping cough) is a very contagious disease of the lungs and respiratory system caused by bacteria. Infants are the most vulnerable to serious complications such as hospitalizations or death.
How is Pertussis Spread?
Pertussis or "whooping cough" is spread by wet droplets produced when an infected person coughs, sneezes or talks. People with whooping cough can spread the disease from the time they get a runny nose until 3 weeks after their cough starts.
Fast Facts
Coughing fits due to pertussis infection can last for up to 10 weeks or more.
Roughly half of babies younger than 1 year old who get pertussis need hospital treatment.
Pertussis can cause serious illness in people of all ages and can be life-threatening.
Early symptoms are those of a cold: runny nose, low/no fever, mild cough

After 1-2 weeks: vomiting, breathing problems, extreme fatigue, whooping sound
For babies: gasping or gaging, breathing may stop, seizures
Good to know…
Pertussis is cyclical, with peak cases every 3-5 years. California's last epidemic was in 2014 with 10,831 cases reported, including two infant deaths and hundreds of hospitalizations.
California will likely have another epidemic in 2018. Some counties are already seeing more cases this year than at the same time in prior epidemic years, and multiple school outbreaks have been reported, especially in middle and high school hildren.
Infants younger than 1 year old are at highest risk.

In order to protect young infants, here's who should be vaccinated:

Pregnant women in their third trimester, (duringeachpregnancy)
Caregivers and household contacts of infants or pregnant women
Everyone in childcare settings with infants

While testing for pertussis is available, it can take a long time for results and it can be difficult to detect so your doctor may treat you or your child based on symptoms.
Need to know
Pertussis is preventable. Get vaccinated! – Routine childhood immunizations include pertussis prevention at 2, 4, 6, 12mos, 4-5 years of age, and again at 10-11 years of age and are required for kindergarten and middle school entry. All adults should get at least one dose too.
If exposed, confer with your doctor about postexposure prophylaxis (PEP).
Your local public health department may provide you or your doctor guidance about PEP and how long infected persons need to stay home from school.
If pregnant:

Pertussis vaccination is recommended in the third trimester of each pregnancy.
Getting the whooping cough Tdap vaccine while pregnant helps protect the baby. It's better to get vaccinated while pregnant than after giving birth.
Resources