Useful Information for a Safe Pregnancy and Delivery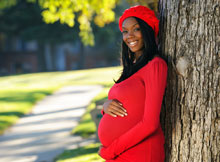 During Pregnancy
If you are unsure of your HBV status, make an appointment with your physician and make a request for a blood test to check for HBV antibodies.
If you are at risk for disease and test negative for the virus, go to your physician's office and get the vaccine.
Avoid the consumption of alcohol. It is harmful to the liver and to the baby's fetal development. Alcohol can also increase the rate at which your liver is damaged.
Follow any and all other prenatal care steps instructed by your primary physician.
During Delivery
Inform your physician of your positive HBV status by bringing this Birthing Hospital Letter
Advise the physician that your newborn must receive the first dose of HBV vaccine as well as the HBIG, a shot that provides immediate protection from the virus, within 12 hours of birth
After Delivery
Be sure to complete your child's full HBV vaccine series by visiting their pediatric care doctor's office on a regular basis. Try to have their hepatitis B series completed by age 6 months.
After the HBV vaccine series is completed, request a blood test in order to be sure that the child has developed protection from the virus. The pediatrician will request a surface antigen and a surface antibody test.
If a baby does not show sufficient levels of protection, it will be recommended that the series of three vaccinations be repeated.
While over 90% of infections in the Perinatal Hepatitis B Program are prevented, sometimes a baby is found to be chronically infected too. When that happens, it is important for everyone to know that lifelong precautions, monitoring care, and treatment that the child will need.