Nurse Case Managers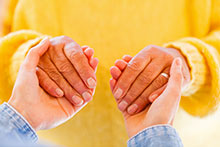 Older Adults, Healthy Results nurse case managers do the following:
Provide case management services that enhance care coordination and client support systems with the goals of improved client function, safety, and quality-of-life.

Services may include:

Home visits
Multi-domain geriatric assessment
Fall prevention
Medication review
Linkage to community-based resources and supportive services
Health education to support self-management of chronic health conditions
Health navigation (especially for complex workups and multiple appointments)
Family/caregiver support and education
Frequency of "touch": Services are designed to be intensive. Initially, frequency of face-to-face visits is usually weekly and are gradually withdrawn as client/caregiver become more self-sufficient.
Length of services: Duration is typically upto 6 months but could be longer depending on the client's ability and willingness to progress toward goals. Aim is for the client to "graduate" when longer-range, sustainable supports are in place.
Limited capacity: Since OA/HR is a small team of public health nurses working to meet the needs of a large population of vulnerable older adults, we must occasionally maintain a wait list. Referred clients are contacted as soon as our capacity allows.