Nurse Case Managers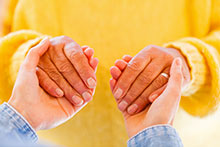 Older Adults, Healthy Results nurse case managers do the following:
Provide care coordination for clients who lack the support, functional capacity, and resources to be able to perform these activities themselves.
Case management interventions are intended to improve care coordination, enhance client safety, well-being, and quality-of-life, while reducing the fragmentation of care across different settings.

Services may include:

Home visits
Multi-domain geriatric assessment
Fall prevention
Medication review
Linkage to community-based resources and supportive services
Health education to support self-management of chronic health conditions
Health navigation (especially for complex workups and multiple appointments)
Family/caregiver support and education
Frequency of "touch": services are designed to be intensive. Initially, frequency of face-to-face visits is usually weekly and are gradually withdrawn as client/caregiver become more self-sufficient.
Length of services: nurses generally work with their clients for 6 months or longer depending on the client's ability and willingness to progress toward goals. Aim is for the client to "graduate" when longer-range, sustainable supports are in place.
Limited capacity: Since OA/HR is a small team of public health nurses working to meet the needs of a large population of vulnerable older adults, we may maintain a wait list. Referred clients are contacted when space opens up on our caseload and we are able to accommodate new intakes.