Older Adults, Healthy Results (OA/HR)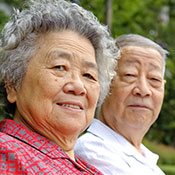 Older Adults, Healthy Results provides intensive, home-based nurse case management for high risk Medi-Cal recipients, 60 years of age or older, who reside in Alameda County. We help our clients to remain living safely in their homes and communities by promoting wellness and supporting function. We also support their caregivers and healthcare teams.
OA/HR clients struggle with an array of functional limitations, inadequate caregiving resources, and other daunting psychosocial challenges that interfere with their ability to manage complex medical conditions and put them at high risk for institutionalization.