Community Engagement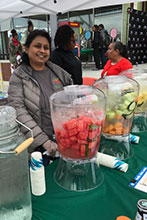 Volunteer and Internship Opportunities
We have seasonal opportunities to work with our staff. We welcome interested parties who reflect the racial, ethnic and rich diverse backgrounds of Alameda County residents. Students affiliated with a sponsoring schoo
Please allow 4-6 months to establish an affiliation agreement. Fingerprinting, background check and physical may apply. Contact Rachel Paras at Rachel.Paras@acgov.org to learn more.l or organization must have a current affiliation agreement with Alameda County.
Community Voice
ACNS engages with community on a regular basis. Through our direct education like our senior garden classes and Cooking for Health Academy to our summer park and recreation nutrition education classes, we are with you. We also engage residents through local assessments, surveys, focus groups, and personal interviews to gather information to remain current and knowledgeable about community concerns and needs. Our team is out in the community conducting classes, at retail sites, and more throughout the week.
Community Champions
Graduates from our Cooking for Health Academy become eligible to take the ServSafe Food Handler California online course and assessment at no-cost. Paid and volunteer opportunities arise throughout the year to co-teach classes or support events. Contact Dale Murai at Dale.Murai@acgov.org.