Community Engagement | Community Voice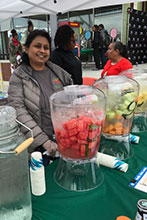 Alameda County Nutrition Services provides pathways for volunteers, interns, and community to pursue public health as a career and at a minimum gives an early view to see if it is of interest. Volunteers, interns, and community champions reflect the diversity and resilience of Alameda County.
HEALTH AMBASSADORS help with one time or short-term projects like organizing inventory, participating in feedback sessions and focus groups, or putting lunches together at the annual Healthy Living Festival. Opportunities may be volunteer and/or paid depending on the project.
INTERNS Seasonal program internship opportunities exist for high school, undergraduate, and graduate level students who have lived or work experience with Alameda County and who are interested in public health community-based nutrition education and physical activity and have a desire to promote healthy living with local communities. Intern projects contribute to spreading awareness about the benefits of adopting healthy eating and the importance of regular physical activity and even policy change. Visit the intern Testimonials webpage.
A student services agreement between the host institution and Alameda County must be in place before placement. This process may take a minimum of 4-months. Prospective interns will be interviewed. Internships are available based on staff time and capacity. Fingerprinting, background check, TB test and physical may apply.
Inquiries for dietetic rotation preceptors can be directed to
Annette Laverty, MPH, RD or Nori Grossmann, MPH, RD
Organizations who would like to establish a student services agreement,
contact Interim Director, Director, Rachel P. Paras.