Rethink Your Drink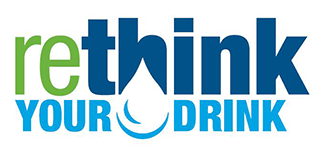 The ReThink Your Drink campaign encourages choosing healthy beverage options and raises awareness about the harm of sugary drinks. Sport drinks, energy drinks and juices are the leading source of added sugars in the standard American diet. Too much sugar is linked to poor health conditions, like heart disease, type 2 diabetes, obesity, dental cavities, arthritis, and weight gain. Make your own delicious, healthy beverages and make wise decisions when rethinking your next drink.
Water is an excellent drink choice and unsweetened tea is another, no sugar healthy drink option. Because water makes up about 50-70% of our body's cells, tissues, and organs, we depend on it to work properly.
Take the next step and be part of the movement to increase awareness and Rethink Your Drink by:
Posting material on social media.
Adding an article to your agency's monthly newsletter.
Sending an email blast to contacts.
Promoting the 7-Day Water Challenge.
Doing a water tasting demonstration.
Promoting healthy beverage consumption in place of sugary beverages at your events!
Support the campaign by promoting RYTD resources today!
---
Content sources:
1) UC Davis Health: Good Food as Good Medicine
2) USGS: The Water in You. Water and the Human Body
3) CDC Get the Facts: Sugar Sweetened Beverages and Consumption