Blue Skies: Mental Health & Wellness Team (MWT)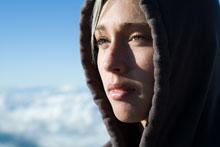 The Mental Health & Wellness Team (MWT) provides consultation to Alameda County Maternal, Paternal, Child and Adolescent Health (MPCAH) home visiting programs. In addition, the MWT provides direct case management support, information/referral-resources and linkages for active clients in the MPCAH home visiting programs in Alameda County to mental health services.
Mission
The focus of the MWT is to provide stabilization and resources to support mothers, fathers and families where mental health issues, complex psycho-social needs and barriers to receiving mental health services are identified. The MWT will strive to support the overall functioning, safety, well-being and efficacy of pregnant moms, parents, infants and children in maximizing their potential for healthy overall development by providing brief assessment, screening and intervention.
Goals
Promote healthy assessment and engagement with families to reduce symptoms of depression, anxiety, and other mental health/psycho social concerns that impact building healthy relationships
Focus on keeping the needs of the parent-child relationship as a primary focus
Focus on the strengths and accomplishments of families and staff members
Respecting cultural values and families unique needs when working with programs, staff members and parents
Remaining aware of Trauma Informed Care Practices to support families and programs in need of intervention
Eligibility
Pregnant & parenting Alameda County MPCAH clients with open and active home visiting cases.