Resources for Medical Providers
Immunization Reminders
Click on Flyer to download
details & PDF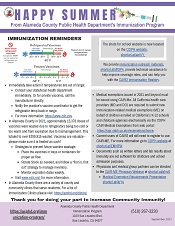 Immunization Reminders for Providers
Click on Flyer to download
details & PDF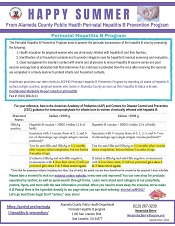 Immunization Reminders and Newsletter



We provide helpful immunization materials like yellow cards and reminder postcards for your practice and informational pamphlets free of charge. Order online and we'll drop them in the mail for you.

Alameda County-Sponsored Educational Events

Lists upcoming events and archives past events, such as workshops and trainings.

Vaccination Schedules

Links to recommended U.S. childhood, adolescent and adult vaccination schedules, formatted for use by providers or the general public.

Vaccines for Healthcare Professionals

Information from the CDC discussing the vaccines recommended and required for healthcare professionals.

Vaccine Information Statements (VISs)

Links to the Vaccine Information Statements for all vaccines used in the U.S. in several languages. Patients should always be given the opportunity to read these before being vaccinated.

ACIP Statements

The Advisory Committee on Immunization Practices is the group of medical and public health experts that develop recommendations on how to use vaccines and control disease in the United States. This link provides the ACIP recommendations for all vaccines in use in the United States.

Pink Book – The Epidemiology and Prevention of Vaccine-Preventable Diseases

View or print chapters from the 13th edition of this very useful text book from the CDC. It contains information about not only all of the vaccines used in the U.S. and the diseases they prevent, but also has appendices with rich information and useful tools.

The Vaccines for Children (VFC) Program in California

This federal program provides free vaccines to children 19 and younger who are uninsured, underinsured, or Native American or Alaskan Natives.

Vaccine Package Inserts

View and print the package inserts from all formulations of vaccines used in the United States.

Comprehensive Vaccine Storage and Handling Information

View and print refrigerator and freezer set up, and storage and handling guidelines required by the VFC program in California and recommended for all providers using vaccines.

California Immunization Registry (CAIR)

All Alameda County medical providers are encouraged to log vaccines given to their patients in this secure online and valuable database. For access, contact us.