Alameda County-Sponsored Educational Events
Sign Up! Free Immunization Skills Trainings for Medical Assistants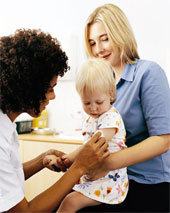 The Immunization Skills Trainings for Medical Assistants class offers hands-on training on vaccine preparation and administration, storage and handling, and patient entry into the California Immunization Registry (CAIR).
Please add yourself to our email list to be notified of our future MA Trainings here.
---
2019 Immunization Update
Our June 5th, 2019 Immunization Update focused on new pediatric ACIP recommendations, roles that vaccines play toward decreasing antibiotic resistance and strategies to increasing immunization rates within a clinical practice. Thank you all for a great event.
Presentations
---
Highlights Adult Immunization Update 2018
Our June 6th, 2018 conference featured three presentations from three distinguished physicians covering clinical guidelines for Adult Immunizations. The conference was a big success with attendees from all over the Bay Area.
Presentations
Vaccinations for Adults – Lisa Winston, MD; Professor, Department of Medicine; Vice Chief, Inpatient Medical Services and Hospital Epidemiologist; UCSF at Zuckerberg SF General Hospital
Effective Communication without Confrontation – Ken Hempstead, MD; Regional Vaccine Communication Lead; Kaiser Permanente in Northern California
Alameda County Initiatives and Vaccine Preventable Diseases Data – Erica Pan, MD; Director, Division of Communicable Disease Control & Prevention; Interim Health Officer; Alameda County Public Health Department
Thank you to our sponsors and collaborators:
California Department of Public Health
CARDEA
Dynavax
Glaxo Smith Kline Vaccines
Merck Vaccines
Pfizer Vaccines
Sanofi Pasteur
Highlights 2018 Bay Area Infections Disease Conference for Prenatal and Pediatric Providers