Policies and Legislation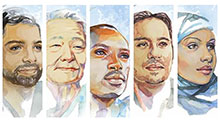 Existing and proposed policies and legislation related to immigration are being generated at all levels of government. Policies are particularly fluid at the federal level.

Click to download/print infographic »
Public Charge
On Oct. 10, 2018, the public charge was published in the Federal Register. Proposed changes to the public charge rule are explained in the NPRM. The 60-day public comment ended Dec. 10, 2018 with over 210,000 comments submitted. By law, the government must review and consider all comments prior to the proposal becoming law. Throughout this rule change process, the current federal definition of public charge remains the law.
Under the proposal, the definition of public charge would expand to include previously exempt non-cash programs such as Section 8 housing vouchers and rental assistance, SNAP food assistance, and Medicare Part D for low-cost prescription drugs. Use of such benefits would be "heavily weighed negative factors" for persons seeking legal permanent residency. Important to note: The proposed rule change would apply to future enrollment in the specified government programs and services. It would not apply to current or past enrollment.
Other Immigration Legislation
AB 450 Immigrant Worker Protection Act
Effective Jan. 1, 2018, AB 450 mandates that an employer request a judicial warrant before granting immigration agents access to the private area of a worksite. California Attorney General Xavier Becerra and Labor Commissioner Julie Su have issued new guidance. See obligations for employers and Q&As.
California State Immigration Laws
Includes information applicable to immigration checks by law enforcement, educational institutions, and employers, as well as E-Verify requirements and restrictions on public benefits based on an individual's immigration status
Senate Bill 54
Known as the Sanctuary State bill, SB 54 went into effect Jan. 1, 2018. The bill prohibits state/local law enforcement agencies, including school police and security departments, "from using money or personnel to investigate, interrogate, detain, detect, or arrest persons for immigration enforcement purposes."
FAQ: Trump's Executive Order on Sanctuary Cities – Sept. 2017
What does the executive order say? What federal grants are affected? What is a "sanctuary jurisdiction?"
Alameda County Board of Supervisors Resolution 2016-274 – Sept. 2016
Upholding due process and protecting the civil rights of immigrant residents
Alameda County Board of Supervisors Resolution 2016-303 – Sept. 2016
Designating Alameda County as a welcoming county for immigrants and refugees