Resources for those living with or impacted by HIV/AIDS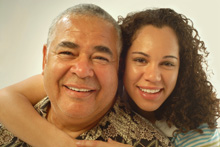 Getting HIV coverage under the Affordable Care Act in Alameda County
Guidance provided by East Bay AETC and HIV ACCESS on what steps to take if you are already insured, already have Medi-Cal coverage, already signed up for HealthPAC, or are undocumented, uninsured, or wish to enroll in Covered California.
Alameda County HIV/AIDS Service Providers
The Office of AIDS Administration provides funding to more than 30 throughout Alameda County HIV/AIDS services agencies to provide a variety of compressive HIV/AIDS related services to address the health and wellbeing of those living with and affected by HIV/AIDS. Services and eligibility provided at each agency may vary, please make sure to contact the agencies directly for additional information regarding eligibility and services.
HIV Support Group Listings
While researchers are working hard to develop a cure or vaccine for HIV, it is important for HIV positive individuals to attend to all aspects of their health. Emotional/spiritual support for persons infected with HIV and their loved ones and care partners is a vital aspect of living with HIV. HIV support groups can offer a sense of belonging, and build relationships, facilitate and enable expression and sharing of feelings, help to relieve stress and provide members with accurate information regarding HIV/AIDS as well as other related topics and reduce the feeling of isolation often associated with being HIV positive. Click for a list of a variety of HIV support groups, which may be able to provide you with additional support and information.
HIV Disclosure Assistance
Deciding whether or not to disclosure one's HIV positive status can be a scary and isolating for almost anyone faced with the situation. Disclosing one's HIV status is a personal decision and the pros and cons should be carefully weighed for each individual before they make the decision to disclose their status. If you or someone you know is facing this situation there are trained disclosure counselors who are available to assist you in weighing your options. For more information on disclosure options, check out the I Chose to Disclose brochure or for assistance call 510.268.7630.
Offices of HIV Care and Prevention Grievance Process
The Offices of HIV Care and Prevention recognizes that not all client grievances or complaints may be resolved at the service provider level and therefore has implemented a neutral third party mediation option in hopes of facilitating an amicable resolution between the client and the service provider. Click to find out more »
AIDS Drug Assistance Program (ADAP)
ADAP provides HIV/AIDS related prescription drugs to uninsured and underinsured individuals living with HIV/AIDS. ADAP funds are used to provide medications to treat HIV disease, or to prevent the serious deterioration of health, including measures for the prevention and treatment of opportunistic infections.
References for ADAP Clients or ADAP Applicants
Financial criteria eligibility for ADAP has recently changed. Please consult your Medical Case Manager or your ADAP Enrollment Worker for details.
Detailed information on the Medicare Part D benefits
ADAP "Quick Reference Guide" for Covered California
ADAP – Covered California 2016 Formulary (Antiretroviral and Hepatitis C drugs) Comparison Chart
ADAP Management Memos are available on the California Office of AIDS website
Transgender Resource Guide – State of California and National
This directory is designed to assist persons and organizations in locating resources specific to the transgender community. Social service programs, health care services, activism and advocacy, and open and affirming faith communities are among the sections covered.