Fatherhood Initiative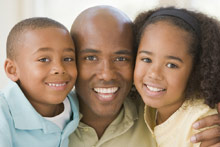 The Fatherhood Initiative aims to strengthen, coordinate, and grow existing male and fatherhood services support within the Maternal, Paternal, and Child & Adolescent Health (MPCAH) system of care.
See Father Friendly Principles for Agencies

The Fatherhood Initiative promotes responsible fatherhood and healthy relationships through parenting education and skill building. It provides male-centered case management and care coordination through support programs. The Initiative collaborates with First 5 Alameda County to promote the Father Corps program and partners with Alameda County Healthy Start Initiative and Black Infant Health to ensure early intervention practices.
Alameda County Fathers Corps Overview
The goals of the Fatherhood Initiative are to improve the quality of life for Alameda County children, families and communities by:
promoting responsible fatherhood by providing male-centered, skill-based parenting education
providing case management and specialized support groups
increasing men's access and use of local health care and wraparound services
strengthening and enhancing existing services through capacity building, training, and health promotion campaigns
Father-Friendly Principles: English | Spanish
Target audience
Alameda County fathers and males, adolescent through adulthood, with a specific focus on urban males who are non-custodial parents reentering the community from the adult and juvenile justice system, experiencing poor health outcomes, and need parenting/life skill support.