Clinics and Services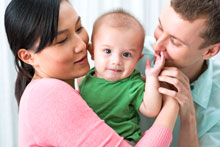 Abortion
If you are considering an abortion, you can receive accurate, unbiased and confidential information from a health care professional. Call the toll-free Family Health Line 1-888-604-4636 for referrals, a service of your Alameda County Public Health Department.
Adoption
Understanding open vs. private adoptions.
If you are considering adoption, Alameda County Social Services Agency Adoption Program provides free services to birth parents (pregnant women and the father of the baby).
Emergency Contraception
Emergency Contraception (EC) can stop a pregnancy before it starts. It's not the same as the abortion pill and does not replace birth control that is used before or during sex. There are 4 types of EC to choose from and they all work up to 5 days (or 120 hours) after unprotected sex.
Family Planning
Family planning providers and resources, including emergency contraception, pregnancy testing, HIV screening, and STD treatment.
Pregnancy Tests
Pregnancy testing and counseling about your choices are available for free or low cost. Call the toll-free Family Health Line: 1-888-604-4636 to find a medical provider that can offer you confidential and professional help. By seeking care as soon as you suspect you may be pregnant, you will have more available choices.
Vasectomy
Vasectomy is permanent birth control for men. It is a minor procedure that will not change your sex drive or performance. Most men are able to return to work in 1 or 2 days. Vasectomy is one of the safest, most effective kinds of birth control. Call the Family Health Line 1-888-604-4636 to find a free or low-cost local vasectomy provider.