CHDP Check-up
CHDP provides health check-ups for infants, children, and teens. These exams are covered on a set schedule. Children and youth can also get check-ups for school entry, sports/camp physicals, and when changing foster placement.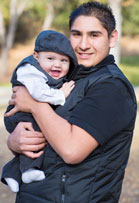 At the visit, the doctor will check the child's or youth's:
Growth and development
Teeth and mouth*
Vision
Hearing
Need for shots (and give if needed)
Need for lab tests, including lead, STD, and pregnancy tests (and give if needed)
* Many offices offer Flouride Varnish to protect your child's teeth from cavities
If medical problems are found during the visit, children and youth will be referred for additional medical services.
The doctor can also refer for:
Mental health support
Dental care
Food resources
The doctor can answer questions and help patients learn about:
Safety: infant sleep, care safety/seats, firearms, bullying, dating
Nutrition and physical activity
Sexual health and puberty
Tobacco, drugs and alcohol
School issues
Steps to Getting a FREE CHDP Exam
| | |
| --- | --- |
| Step 1: | Go to any CHDP provider office to apply. You can view the list of offices or call us at 510-618-2070. |
| Step 2: | Fill out 1-page CHDP form. If eligible, the child or youth will receive temporary Medi-Cal health insurance through CHDP Gateway. This insurance will pay for doctor visits and other services. The temporary Medi-Cal is only good for the month you apply and the next month. |
To get permanent Medi-Cal, an application will need to be filled out and turned in each year.
Find places to apply for Medi-Cal and other programs to cover health care.
See a Doctor Before You Get Your Medi-Cal Card!
Don't wait to get your Medi-Cal card in the mail. You will get a receipt when you apply for CHDP Gateway or full-scope Medi-Cal. You can use this receipt to get an appointment. Call the Family Health Line for help getting an appointment: 1-888-604-4636.