What is the Medical Therapy Program?
Alameda County California Children's Services Medical Therapy Units (MTUs) are closed. The MTUs closed to help keep the corona virus from spreading. You can call your MTU if you have an urgent question. Staff will check the voicemail and call you as soon as they are able.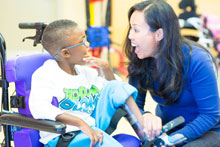 The CCS Medical Therapy Program (MTP) is a statewide program that provides occupational and physical therapy to children with certain physical medical conditions. Families play the biggest part in a child's therapy. We will work with you and your child to create individual goals and a therapy plan to work towards those goals.
What services do we provide?
Occupational Therapy
Physical Therapy
Durable Medical Equipment (DME) consultation
Home and school consultation
How Do I Get Medical Therapy Services?
Where do we provide services?
There are five Medical Therapy Units located in schools in different parts of Alameda County.
For general questions about the Medical Therapy Program, please call (510) 208-5970.
CCS Medical Therapy Units
Bay Medical Therapy Unit
2001 Bockman Rd, Rm 210
San Lorenzo, CA 94580-1903
Phone: 510-317-4355
Fax: 510-278-8246
Cesar Chavez Medical Therapy Unit
2825 International Bl., Rm C121
Oakland, CA 94601-1543
Phone: 510-208-3932
Fax: 510-434-5222
Glankler Medical Therapy Unit
39207 Sundale Dr.
Fremont, CA 94538-1916
Phone: 510-651-1312
Fax: 510-661-0472
Valley Medical Therapy Unit
1040 Florence Rd Rm 7
Livermore CA 94550
Phone: 925-479-8900
Fax: 925-449-4169
West Oakland Medical Therapy Unit
1240 18th St., Rm CCS1
Oakland, CA 94607-2223
Tel: 510-874-3317
Fax: 510-874-3321
Schools can refer children and youth to the Medical Therapy Program using this form.
Visit our Resources page to learn about helpful services and programs.