Frequently Asked Questions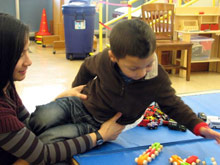 Q. How do I know if my child is eligible?
A. California children and young adults under the age of 21 may be eligible if they have a serious medical condition requiring special care such as diabetes, cerebral palsy, cancer, sickle cell anemia, traumatic injuries, hearing loss, and many others.

Q. How does CCS help my child?
A. CCS can help you find and pay for medical services that may include the following: hospital and physician care; x-ray and laboratory services; medical supplies and equipment; medications; home health care; physical and occupational therapy; orthodontic care; confidential HIV testing and monitoring. (All services except emergencies need CCS approval before the services are given.)

Q. How are children referred to CCS?
A. Typically a referral to CCS is made by your child's health care provider or medical insurance plan. However, any concerned person, such as a parent, teacher, or social worker may refer a child to CCS.

Q. What are the income guidelines?
A. Children with full-scope Medi-Cal insurance are eligible. Children in families with adjusted gross income under $40,000 are eligible. Children in families with adjusted gross income over $40,000 may be eligible. If you are being referred for the Medical Therapy Program that provides occupational and physical therapy, there are no income requirements. Eligibility is based on diagnosis.

Q. If my child already has Medi-Cal, why does she need CCS?
A. Medi-Cal has an agreement with CCS for CCS to manage medical care for children with special health needs. CCS may cover some services that Medi-Cal does not cover.

Q. Are there any fees for CCS services?
A. There are no fees for children who have full-scope Medi-Cal insurance. Other families may need to pay a small annual fee based on family size and income.

Q. Can my child have CCS and Regional Center services?
A. Yes. Many children are eligible for both CCS and Regional Center services. CCS ends at the age of 21, Regional Center services often continue.

Q. What if my child has an HMO?
A. Children with HMOs may be eligible for CCS if the requested services are not a benefit of their HMO. Children with HMOs are eligible for Medical Therapy Unit (MTU) services.

Q. Is treatment for autism covered by CCS?
A. No. Autism is not a CCS-covered diagnosis. Current, detailed information on medical eligibility and conditions covered can be found on the State medical eligibility web page.