CCS Case Management Program
The CCS Case Management program is made up of a team that includes: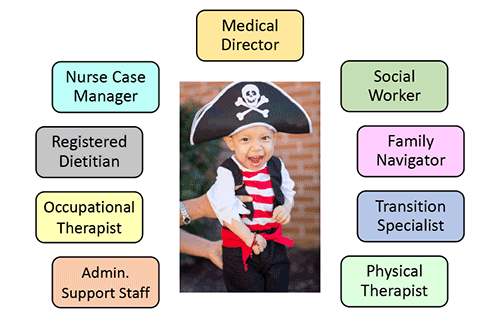 What Nurse Case Managers Do
Each CCS client is assigned to a Nurse Case Manager (NCM) based on the child's/youth' s medical condition. The NCMs work as part of a CCS care team that is made up of all of the staff shown above. In order to ensure that every CCS child or youth has the right care, at the right time and the right place, NCMs consult with:
Specialists at hospitals
Specialists at clinics
Medical supply companies
What Social Workers Do
The CCS social workers determine financial and residential eligibility for the CCS program. CCS social workers also assist with Medi-Cal and other health insurance issues. They also help families in navigating health care systems; and provide mental health support, information and referrals.
If you have questions about CCS or need support with services:
Call CCS at 510-208-5970.
Our administrative staff will direct your call to the best person to help you. It's okay to call even if you are not sure what questions to ask.
Call CCS When:
You are having trouble getting a medicine from the pharmacy
Medical equipment is not working
You can't get in to see a specialist
You have questions about your CCS eligibility
You have questions about medical insurance, including Medi-Cal and Covered CA
To give feedback on the website or ideas of resources to add, please email Kim Baranek or call 510-208-5970.