Castlemont Community Cafés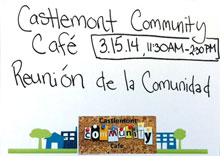 The two BBZ Castlemont Community Cafés took place at Youth UpRising in March 2014.
Open to East Oakland residents with a strong tie to the Castlemont neighborhood (84th-92nd, MacArthur to Olive/Birch), the Cafes provided an opportunity to connect with neighbors and discuss issues of strength and challenge in the community. Small group discussions facilitated in English and Spanish provided a chance for intimate conversations about safety and violence, education, local economy, and community building. The information and ideas from these powerful events will serve as a foundational resource for the work of the East Oakland Innovators and the Mini-Grants.
Community Café Report: English | Spanish