Asthma Start Program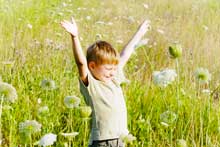 The Asthma Start Program works with families of children with asthma by providing in-home case management services. The Asthma Start team provides education and support, and develops an action plan to assist families in controlling their children's asthma. These services include the following:
Education to families about asthma, asthma triggers, prevention of asthma attacks, asthma medications, and modeling of questions to ask health care providers.
Remote home inspections to identify the causes or triggers of a child's asthma attacks.
Developing individualized goals tailored to each family's specific needs.
Collaboration with schools and day care providers to ensure that asthma medication is available for every child with asthma at the site. Asthma education is also provided to staff at schools and day care providers.
Collaboration with medical providers at local hospitals and clinics.
Working with landlords on behalf of clients when appropriate.
Assistance with housing, employment, and health insurance.
Providing referrals to smoking cessation services and other services as needed.
Program Flyer: English | Spanish | Chinese | Vietnamese
Program Contact Number: (510) 383-5181
Target Audience:
Infants, children, and adolescents (up to 18 years old)
What is Asthma?
Asthma is a disease that causes the airways to become smaller and blocks free-flowing air into the lungs. Asthma is life-threatening if it is left untreated and ignored. It is the leading cause of hospital stays for young children in Alameda County. It causes missed days of school, play time, work for parents, and sleepless nights.

Asthma Start Program goals are to:
prevent emergency room visits and hospitalizations related to asthma
enhance awareness and understanding of asthma
improve the ability of families to control the child's asthma
prevent missed days of work and school
Major Events and Activities:
Asthma Awareness Month – May