What is WIC?
Women Infants and Children (WIC) Program

Special Supplemental Nutrition Program
for Women, Infants and Children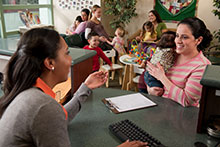 WIC is a health, nutrition and breastfeeding program that offers:
California WIC Card to shop for free healthy foods
One-on-one sessions about nutrition, breastfeeding and health by phone with a WIC educator
Answers to your questions while you are pregnant and as your child grows
Breastfeeding support
Online education
Referrals to healthcare programs and other community resources
What is the California WIC Card?
WIC parents use it to buy WIC foods at the market.
It looks like a debit card.
It's easier to use than food checks.
WIC gives you the card when you enroll.
WIC offices in Alameda County
PDF: English | Spanish | Chinese | Vietnamese