The 9 Steps to Breastfeeding Friendly
Community Health Centers in Alameda County who provide primary care for breastfeeding couplets are eligible for FREE clinical lactation education for physicians, midwives, and nurses in 2021 through the Alameda County Regional Breastfeeding Liaison program.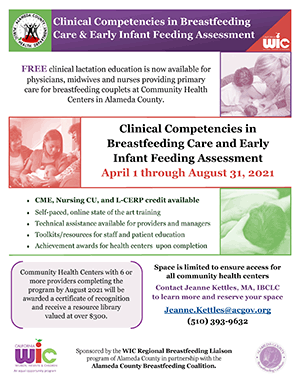 For more information, download the flyer or
contact the Regional Breastfeeding Liaison


Guidelines for Community Health Centers and Outpatient Care Settings
Alameda County Public Health Department joins the California Department of Public Health in promoting the 9 Steps to Breastfeeding Friendly Community Health Centers and Outpatient Settings to ensure all families receive skilled breastfeeding support and care that protects well-being and builds healthier communities.
The 9 Steps promotes nationally accepted clinical competencies for professionals providing primary and secondary care to childbearing families. These competencies are essential to delivering perinatal education that fosters parental self-efficacy, skilled clinical assessment and appropriate infant feeding plans.
Want to learn more about the benefits to designation as Breastfeeding Friendly?
Contact the Alameda County Breastfeeding Liaison:
Jeanne Kettles, MA, IBCLC
Jeanne.Kettles@acgov.org
(510) 393-9632