Child care practices can strongly influence whether or not many breastfeeding parents reach their goals
Most breastfeeding parents return to work or school while their babies are very young. When childcare providers are knowledgeable in how to support breastfeeding, they help families continue to provide optimal nurturing and nutrition for their babies.
Looking for ways to support breastfeeding in your child care program?
The Alameda County Breastfeeding Coalition offers support and a useful Toolkit to help your program be more "Breastfeeding Friendly."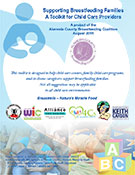 Child Care Provider Breastfeeding Education and Support
Recorded 1-hour webinar for care provider training: Breastfeeding Friendly Child Care
Child Care Resource and Referral Agencies in Alameda County
Guidelines and Recommendations
CDC Guidelines: Proper Storage and Handling of Breastmilk
Storage and Preparation of Breastmilk Handout (CDC 2019) PDF: English | Spanish
Human Milk Storage Guidelines (CDC and USDA) (Magnet) PDF: English | Spanish
National Resource Center for Health and Safety In Child Care and Early Education
Head Start Early Childhood Learning & Knowledge Center
American Academy of Pediatrics Tips for Freezing and Refrigerating Breastmilk