Breastfeeding and Work or School
For Employers
Research shows that nursing moms who get support to pump at work miss less work and are more productive and loyal to their company.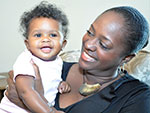 For Working Moms
Breastfeeding moms going back to work: have you talked to your employer about this law?
Hand expression and pumping can be great tools for breastfeeding moms. Both help you provide milk for your baby when you are apart. Learn more here »
Learn how You Can Continue Breastfeeding after returning to work or school:
Making a personal lactation plan
Keeping up a good supply
Do you need a pump, and how to get one
Laws that protect a mother's right to express milk at work
Questions to ask you employer
Tips for childcare providers
And much more!
Do you need help with breastfeeding?
Contact your health care provider or birthing hospital, especially if you have pain, fever or a concern about your baby's well-being.
Many health plans cover breastfeeding support.